Vineyard site :
Kieselberg Deidesheim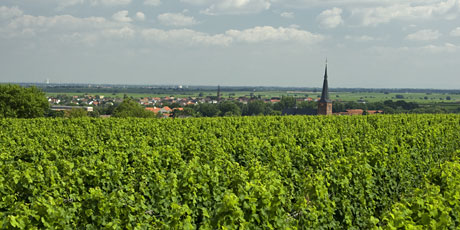 Grape varieties cultivated
Riesling
Geographic situation
150-160 m above sea level
Located on a flat plateau above Deidesheim, this site is well exposed to the sun. Our Riesling vineyard in the' KIESELBERG' site is one of our older ones and provides us with one of our 'Großes Gewächs' (Grand Cru) wines. The classification based on land tax legislation introduced by the Bavarian monarchy in 1828 ranks 'KIESELBERG' amongst the top sites of the Palatinate.
Soil structure
Highly varying - loamy sand with some coloured sandstone and stony soil
Total area
15.51 hectares (38.8 US acres)
Origin of name
The name of this vineyard site is derived from the structure of its soil (in modern high German: 'Kiesel' gravel, pebble stone = coarse-grained, stony sand)
Wine features
The heat-absorbing stony sand coupled with a 12-hour exposure to the sun produces very ripe, full-bodied wines with a fine fragrance, excellent fruitiness (peaches, apricots) and a concentrated depth of rich flavour.